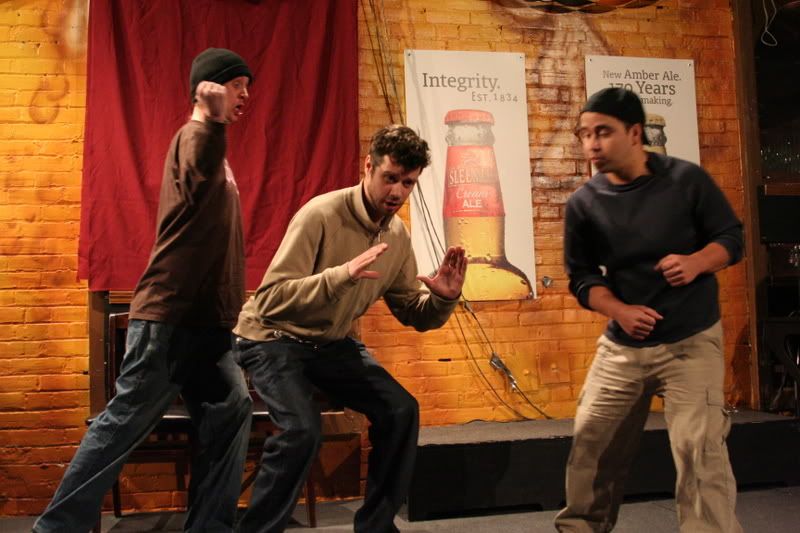 So Winnipeg has a CageMatch franchise now. The improv show "CageMatch" was started in New York City, in the Upright Citizen's Brigade theatre. The show has 3 groups compete for the love of the audience. Each team is given 22 minutes to do their improv scene/scenes/songs/whatever and after all 3 have gone up, the audience gets to vote in a secret ballot (they are given pieces of paper to vote with). The winner of the night gets bragging rights and gets to come back the next show (in Winnipeg's case, next month).
The show is being held at the King's Head at 9pm once a month as part of the King's Head "Happy Hour" which is a weekly comedy show there. Other shows that rotate through the "Happy Hour" are:
-Jack'um & Attack'em Improv
-Stand-up Comedy Night
-Alternative Comedy
-CageMatch (which, of course, I have already mentioned)
CRUMBS are currently the defending title holders. Which means we have "won" all the shows that we have done there (which has been 2). Last Tuesday when we did the show, we had a little help in the form of Herbie Barnes. He is in town from Toronto doing the MTYP show "Suessical the Musical". He and CRUMBS tore the joint up and rocked the house down (we had some fun).
Our next show with the CageMatch is December 14th, and we will be joined by Herbie once again. Maybe at the next show we will get to have some free drinks or something?
Anyways, see y'all there.